Aylo2 Joomla template can help you build and customize webpages in seconds. Read through to find out some of Aylo2's special features that speed up your productivity. Aylo2 template utilises Gantry 5 framework, you can download it for free and see it in action.
Select backgrounds for page sections
using Background Manager
You can easily add and manage the look and feel of your sections' background from the layout manager. Not a single line of code is needed, just play with the visual tools that are provided and enjoy the result in your browser. Aylo2's Joomla template layout has 13 sections (horizontal divisions of the webpage), each of which can be customized with its own background.
How to access the background manager:
In the Layout tab of the template,select the cogwheel icon on the right hand corner of the section you want to modify.
Create homepages in seconds
using Home preset outline
Have your homepage up and running in seconds. Aylo2 Joomla template comes with a homepage outline preset, which can be applied to your homepage or any other page you want to. It builds logo position, main menu, right top corner custom text, full page background image with customizable title and Call to Action button, image gallery particle, full page quote, 6 image boxes, right image – left text section, footer and other usefull stuff that would be time-consuming to add them one by one.
How to apply the homepage outline preset:
Select Outlines, create a new one and name it (eg aylo2 – homepage)
Edit the new outline you created by selecting the blue button with the pensil icon
Select Layout tab
Select Load button
In the pop up, uncheck the field "Keep the current particles while changing preset" and
Select Preset Home
Select Save Layout
Then
select Assignments tab
Select the menu item you want the template style you just created to be assigned to.
If needed, select Extras > Clear cache so as changes to be refreshed on your browser
Enjoy 🙂
Easily create portfolio or showcase items
with Image gallery & Custom Content Particles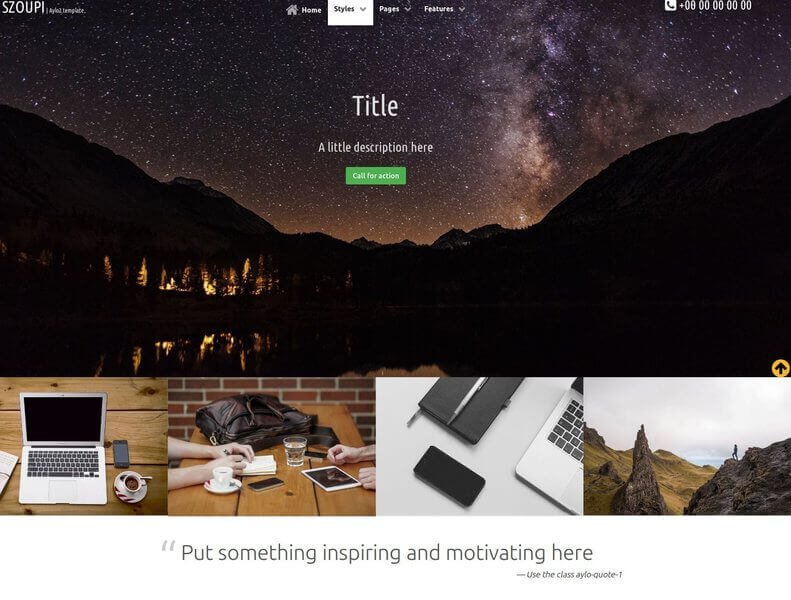 Make your life easier with 2 particles that ship with Aylo2 template, the Image Gallery and Custom Content Particles. Use Image Gallery to display images side by side, enriched with hover effect that reveals title, description and Call-To-Action button. Perfect for your portofolio or showcase items. Custom Content is an enhanced version of the default Sample Content particle of Gantry5 framework. It gives you the ability to add structured content with the added option of an icon picker in addition to the default image picker. Check the documentation for an in depth understanding of particles usage


Change the colors of your site with 1 click
using 7 preset color styles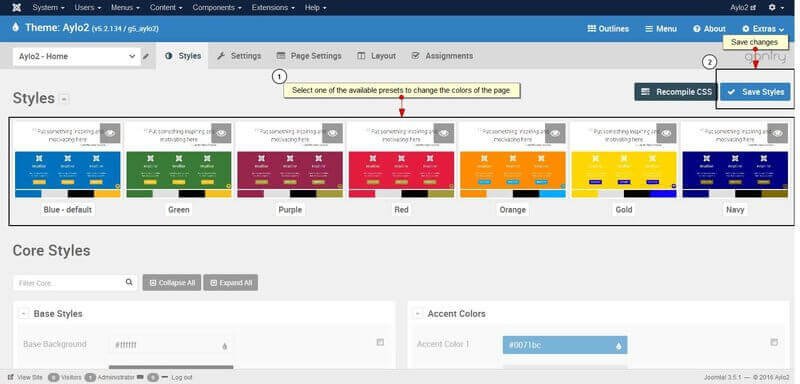 Aylo2 template provides 7 basic color styles (blue, green, orange, red, purple, gold and navy). Just click on them, save changes and your page or even the whole site reflects the new changes. Each color has been carefully selected to be pleasant, appropriate for webpages, and in balance with the other accent colors.
Read more about Gantry 5 color style presets
See Demo Download AYLO2 template
Join our newsletter to be informed about our latest freebies and templates
Aylo2 – handcoded with love!